Description
Southern California attained its modern configuration during the first half of the twentieth century. Its development was influenced by a few good men, like Henry E. Huntington, who saw the possibilities for a great community. His Pacific Electric Railway played a major role in this development. One can only imagine his purpose of extending the PE into wide open spaces where there was near nothing. Was it to take people to his real estate developments? Or was he providing arteries of transportation? No one knows what his overall plan was, but he did provide us with some fine real estate developments, industrial sites, and an excellent transportation system.
Pacific Electric Railway Volume 1: Northern District by Donald Duke covers a wide variety of subjects and lines, including Henry E. Huntington – The Builder, South Pasadena, Pasadena Short Line, New Year's Day in Pasadena, Pasadena Locals, Alhambra-San Gabriel-Temple City, Mount Lowe, Monrovia-Glendora, Sierra Madre, Pasadena Oak Knoll, Sierra Vista, and Box Motors.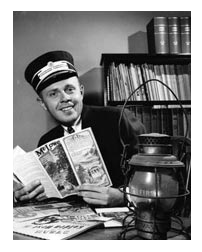 The name of the author and compiler of this book is well known in the blue book of railroad historians. Donald Duke established Golden West Books in 1960 to publish his own works, but eventually published the work of other authors as well. To date, his patient research and editing have enriched more than 140 hardbound titles.
He was a youth when his family moved to Alhambra, while awaiting construction of their new home in San Marino. The Alhambra home was next to the tracks of Pacific Electric's San Bernardino Line, and there his interest in interurbans was born. The new San Marino home was located two blocks from PE's Monrovia-Glendora Line.
Duke attended Colorado College, in the heart of the Denver & Rio Grande Railroad's narrow gauge country. He remained in Colorado for two years after his graduation, working as a commercial photographer. He is well known for the razor-sharp photographed produced by his 4×5 Super-D Graflex.
Besides publishing his own books, he has written numerous historical articles, frequently focused on railroads. He was literary editor for his Kappa Sigma fraternity for 20 years, and was editor of the Los Angeles Corral of Westerners' Branding Iron for two periods of time totaling 15 years. He is a past director of the Southern California chapter of the Railway & Locomotive Historical Society and was a founding member of the chapter. He is a member of the Lexington Group of Railroad Historians, and belongs to many railroad historical societies.
For Donald Duke, photography, writing, publishing, interurban railroading and western history all go hand in hand as rewarding professional pursuits and personal interests.