Description
Life for The Union Pacific in Southern California began with the franchise of the Los Angeles Terminal Railroad in 1890, and eventual purchase by the San Pedro, Los Angeles & Salt Lake Railroad for an entrance into Southern California in 1901, and with the eventual takeover by the Union Pacific Railroad.
This pictorial history begins with the building of the Los Angeles Terminal from Los Angeles to East San Pedro, Pasadena, Altadena and Glendale. The Terminal became known as the "Route from the Mountains to the Sea" with its 43 train schedules. The Terminal was established by a St. Louis syndicate who wished to sell the railroad to a third transcontinental railroad.
The San Pedro, Los Angeles & Salt Lake Railroad was the vision of Senator William Andrews Clark, the wealthy copper king from Montana. He financed and built the railroad running from Salt Lake City to Los Angeles and East San Pedro. Eventually Edward H. Harriman's Union Pacific obtained fifty percent of the Salt Lake Route and eventual merger into the Union Pacific system.
This volume describes historically and pictorially the building and operation of both the Los Angeles & Salt Lake Railroad and the operation of the Union Pacific Railroad to 1990. Not forgotten are such famous passenger trains as the Los Angeles Limited, California Mail & Express, and the economy Challenger to name a few. Explained is the coming of such streamliners as the three-car M10000, the City of Los Angeles, the City of Saint Louis, and the City of Las Vegas. Learn about freight operations, the arrival of piggybacking and container service.
Not forgotten are the steam locomotives such as the 800s, 3500s, 3800s, 3900s, and the 5000 and 7800 classes. View the first Fairbanks-Morse diesels, the famous Alcos, the U-50s, road switchers, and the Centennials, plus the steam and gas turbines.
Accompanying the brief historical text are incredible photographs showing every phase of the Los Angeles Terminal, Salt Lake Route and the Union Pacific. It is all here in one volume.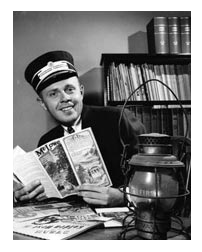 The compiler of this volume on the Union Pacific is a name well-known to the railroad book industry. He established Golden West Books in 1960 to publish his own titles, but eventually began to publish other authors.
His patient research and editing have enriched over 150 volumes on railroading. His own books are Southern Pacific Steam Locomotives, Santa Fe: Steel Rails Through California, Night Trains, RDC-Diesel Rail Car, Incline Railways of Southern California, Santa Fe: The Railroad Gateway to the American West (two volumes), Pacific Electric Railway (four volumes), and American Narrow Gauge, among many others.
For Duke, research, writing, photography and publishing belong together.