Description
Nearly everyone is familiar with the railroad caboose. Formally, it's the punctuation mark that concludes every freight train — a mobile office for the crew, a lookout post. It is a van on the Canadian National, a cabin car on the Pennsylvania, a buggy on the Boston & Maine; but by whatever name, it remains symbolic of the railroad scene.
The little red frame shanty that trailed faithfully after every string of freight cars has undergone many changes in a hundred years. The box-like shelter which train crews built to shield their cooking fires on spare flat cars in the mid-1800s, the converted boxcars with sliding doors introduced around the turn of the century, the cupola-topped wooden crummy popular before World War II, all have given way to more modern and better equipped vehicles.
Today's caboose with its sleek bay windows of shatterproof glass, its automatic oil heaters, electric lights, refrigerators, and radio-telephones between locomotive and wayside station reflect the technological advances being made by North American railroads. The caboose has become merely a rolling office, efficient and functional, rather than the "home away from home" that it used to be.
The Railroad Caboose by William F. Knapke with Freeman Hubbard is the most distinctive, most comprehensive volume ever built around a piece of railroad rolling stock. A century of tradition is served up in an easy-to-read style with a matchless picture gallery.
Meet Author William F. Knapke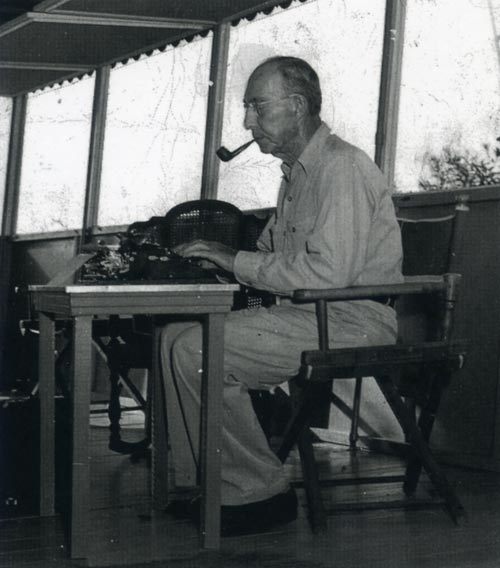 With 50 years of colorful railroading to his credit, mostly in train service, plus some 200 published articles on rail lore, William F. Knapke is probably more familiar with cabooses than anyone else. Born July 17, 1870, at East St. Louis, Illinois, he hired out to the Louisville, Evansville & St. Louis Railroad as a brakeman before he was 16, fired a huge Mallet type steam locomotive during the winter of 1907-1908, and then boarded a red caboose to start a long boomer career.
His work for 32 railroads was adventurous and exciting, as The Railroad Caboose points out. At length he settled down, more or less, as a Southern Pacific home guard, was promoted to conductor, and retired in 1936.
But for Knapke, retirement meant a new life. Becoming a freelance writer, he sold 15 manuscripts in a row before receiving a single rejection, and has been writing ever since. His contribution to Freeman Hubbard's first book, Railroad Avenue, originally published in 1945, helped to make that volume a classic in its field. Much later, when Knapke was assembling The Railroad Caboose, Hubbard reciprocated by assisting him.