Description
For over a century, the Santa Fe operated many first-class transcontinental passenger trains between Chicago, the Pacific Coast and Texas cities. Trains such as the California Limited, the de luxe, the Chief, and the luxurious Super Chief, to name a few. The history of each train is told, along with the all-coach streamliner El Capitan, and other trains such as the Scout, El Tovar, and the Grand Canyon Limited. Not forgotten is the Fast Mail and Express.
Freight, the life's blood of the railroad, is brought up to date. For over a century, the Santa Fe has handled cattle, sheep, ore coal, citrus, grains, cement, liquid fuels, oil and of course automobiles. Today's freight, which formerly moved in boxcars, is now handled in piggyback truck trailers and in containers.
This volume also presents a comprehensive review of Santa Fe's motive power fleet from its earliest 4-4-0 type locomotives to the giant 2-10-10-2s, once classified as the World's Largest Steam Locomotive. The Santa Fe was an early pioneer of diesel motive power due to the alkali water across the desert lands of the Southwest.
Santa Fe: The Railroad Gateway to the American West, Volume 2 by Donald Duke – here is the Santa Fe Railway — a big, generous slice of it — served up in an easy-to-read style with a matchless photographic gallery of railroading.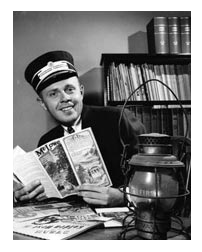 The author and compiler of this volume is a name well-known in the blue book of railroad book publishing. He established Golden West Books in 1960 to publish his own titles, but eventually began to publish other authors. His patient research and editing have enriched over 135 hardbound titles which have been published to date.
As a small child his father took him to old La Grande station at Los Angeles to look at and watch Santa Fe's big steam locomotives in action. Also, to see the arrival of the stramlined Super Chief sweeping into the depot. as a youth, his family moved to San Marino, located on the line of Pacific Electric's Monrovia-Glendora Line, and only two blocks south of their house was Southern Pacific's Duarte Branch. Santa Fe's main line was only a mile to the north, with Southern Pacific's Sunset-Golden State Route just a mile to the south. In reality, he was surrounded by railroads.
Duke attended Colorado College, in the heart of narrow-gauge country, and graduated there in 1951. He chose to remain in colorado as a commercial photographer. He is known for his razor-sharp photographs of steam trains taken by his trusty 4×5 Duper-D Graflex camera. He traced his way back to Southern California in 1954, and became associated with Mobil Oil Company in advertising and sales promotion.
He has written numerous articles on historical Western subjects, including railroads. He was editor of the Los Angeles Corral of Westerners Branding Iron for two periods of time totalling 15 years. He is a past director of the Railway & Locomotive Historical Society, and a founding member of the Western Writers of America, the Lexington Group of Railroad Historians, any number of railroad societies, and a member of the Honorable Order of E Clampus Vitus.
For Duke, photography, publishing, writing and railroading, and Western history all belong together.