Description
The name "Santa Fe" began with the early history of the Southwest, grew with the flow of commerce that followed the old Santa Fe Trail, and became a popularized term by the Atchison, Topeka & Santa Fe Railway. For the past half-century this name has been associated with a famous fleet of streamlined passenger trains, fast freight trains, and today's piggyback and container trains.
Without the arrival of the Santa Fe Railway to the American West, the social and economic development of the region might have been retarded. The treasures of the West were opened once the railroad arrived, and people from all over the world came to populate the area. The Santa Fe Railway built West from Topeka, Kansas, and was bound for Santa Fe. It reached Santa Fe on a branch, but continued West from Albuquerque, New Mexico, to the Pacific under the charger of the Atlantic & Pacific Railroad. It finally reached its Pacific terminal over the rails of the California Southern Railroad.
Santa Fe, Volume 1 by Donald Duke – here is the Santa Fe Railway — a big, generous slice of it — served up in an easy-to-read style with a matchless photographic gallery of railroading.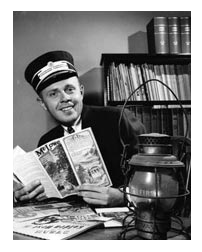 The author and compiler of this volume is a name well-known in the blue book of railroad book publishing. He established Golden West Books in 1960 to publish his own titles, but eventually began to publish other authors. His patient research and editing have enriched over 135 hardbound titles which have been published to date.
As a small child his father took him to old La Grande station at Los Angeles to look at and watch Santa Fe's big steam locomotives in action. Also, to see the arrival of the stramlined Super Chief sweeping into the depot. as a youth, his family moved to San Marino, located on the line of Pacific Electric's Monrovia-Glendora Line, and only two blocks south of their house was Southern Pacific's Duarte Branch. Santa Fe's main line was only a mile to the north, with Southern Pacific's Sunset-Golden State Route just a mile to the south. In reality, he was surrounded by railroads.
Duke attended Colorado College, in the heart of narrow-gauge country, and graduated there in 1951. He chose to remain in colorado as a commercial photographer. He is known for his razor-sharp photographs of steam trains taken by his trusty 4×5 Duper-D Graflex camera. He traced his way back to Southern California in 1954, and became associated with Mobil Oil Company in advertising and sales promotion.
He has written numerous articles on historical Western subjects, including railroads. He was editor of the Los Angeles Corral of Westerners Branding Iron for two periods of time totalling 15 years. He is a past director of the Railway & Locomotive Historical Society, and a founding member of the Western Writers of America, the Lexington Group of Railroad Historians, any number of railroad societies, and a member of the Honorable Order of E Clampus Vitus.
For Duke, photography, publishing, writing and railroading, and Western history all belong together.