Description
People rode the "Red Cars" in great numbers. It was faster than a horse and buggy, or a bicycle, or horseback. On the first day of operation on the Long Beach Line, which was July 4, 1902, it was a hot day in Los Angeles. So people flocked to the "Red Cars" to take them to Long Beach where they could catch an ocean breeze. Over 40,000 passengers were carried that day.
So let us dig into the Southern District's operation, and learn when the lines were built, where they went, etc. It is all laid out for you in word and picture.
Pacific Electric Railway Volume 3: The Southern District features comprehensive coverage of the southern regions of service, including the Catalina Dock Line, El Segundo Line, Gardena-Torrance-San Pedro Line, Long Beach Line, Long Beach Local Lines, Newport Beach-Balboa Line, Redondo Beach Line, San Pedro Line, San Pedro Local Lines.
Also covered are the Santa Ana Line, Santa Ana-Huntington Beach Line, Santa Ana-Orange Line, Terminal Island Line (Calship), Watts Line, West Basin Line, Whittier-Fullerton-Yorba Linda Line, Freight Service, Box Motor Service, and Railway Post Office Service.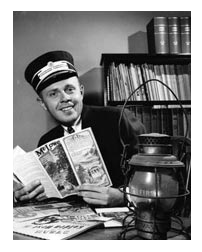 The name of the author and compiler of this book is well known in the blue book of railroad historians. Donald Duke established Golden West Books in 1960 to publish his own works, but eventually published the work of other authors as well. To date, his patient research and editing have enriched more than 140 hardbound titles.
He was a youth when his family moved to Alhambra, while awaiting construction of their new home in San Marino. The Alhambra home was next to the tracks of Pacific Electric's San Bernardino Line, and there his interest in interurbans was born. The new San Marino home was located two blocks from PE's Monrovia-Glendora Line.
Duke attended Colorado College, in the heart of the Denver & Rio Grande Railroad's narrow gauge country. He remained in Colorado for two years after his graduation, working as a commercial photographer. He is well known for the razor-sharp photographed produced by his 4×5 Super-D Graflex.
Besides publishing his own books, he has written numerous historical articles, frequently focused on railroads. He was literary editor for his Kappa Sigma fraternity for 20 years, and was editor of the Los Angeles Corral of Westerners' Branding Iron for two periods of time totaling 15 years. He is a past director of the Southern California chapter of the Railway & Locomotive Historical Society and was a founding member of the chapter. He is a member of the Lexington Group of Railroad Historians, and belongs to many railroad historical societies.
For Donald Duke, photography, writing, publishing, interurban railroading and western history all go hand in hand as rewarding professional pursuits and personal interests.