Description
Webster's Third International Dictionary defines an incline railway as one built on a slope in which cars are raised and lowered by means of a wire rope or cable.
Most tourists, or visitors to Southern California, are surprised to learn that Los Angeles, and the surrounding countryside, is not dead-flat. It happens to be a series of hills, peaks and valleys. A condition that make it ideal for incline railways.
Los Angeles is fortunate to have one of the nation's most modern, and high-tech, incline operations located at the Getty Center. It transports 1200 passengers per hour, from an underground parking garage, to the galleries and museum on top of the hill.
All inclines are not the same, nor is the track they run on. Angels Flight, the Mount Lowe Incline, and theone that ran up Mount Washington, were all two-car, three-rail systems, with a passing track in the center. Court flight was also a two-car system, but with a separate wire rope attached to each car. So one car was independent from the other. The Island Mountain Railway on Catalina Island, was a single-track system, with one car going up on one side of a mountain, while the other car went down the opposite site.
Incline Railways of Los Angeles and Southern California by Donald Duke presents for the first time a look at all these commercial or proposed inclines of the Southern California region. Learn which was the shortest railway in the world, and one which was nearly a mile in length. A dozen inclines are presented in this book. Learn how they came about, who built them, and why some of them were abandoned.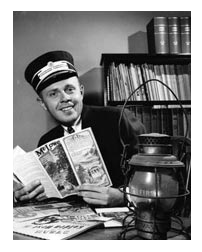 The name of the author and compiler of this book is well known in the blue book of railroad historians. Donald Duke established Golden West Books in 1960 to publish his own works, but eventually published the work of other authors as well. To date, his patient research and editing have enriched more than 140 hardbound titles.
He was a youth when his family moved to Alhambra, while awaiting construction of their new home in San Marino. The Alhambra home was next to the tracks of Pacific Electric's San Bernardino Line, and there his interest in interurbans was born. The new San Marino home was located two blocks from PE's Monrovia-Glendora Line.
Duke attended Colorado College, in the heart of the Denver & Rio Grande Railroad's narrow gauge country. He remained in Colorado for two years after his graduation, working as a commercial photographer. He is well known for the razor-sharp photographed produced by his 4×5 Super-D Graflex.
Besides publishing his own books, he has written numerous historical articles, frequently focused on railroads. He was literary editor for his Kappa Sigma fraternity for 20 years, and was editor of the Los Angeles Corral of Westerners' Branding Iron for two periods of time totaling 15 years. He is a past director of the Southern California chapter of the Railway & Locomotive Historical Society and was a founding member of the chapter. He is a member of the Lexington Group of Railroad Historians, and belongs to many railroad historical societies.
For Donald Duke, photography, writing, publishing, interurban railroading and western history all go hand in hand as rewarding professional pursuits and personal interests.